When it comes to motorcycle helmets, there are a lot of different brands and styles to choose from. If you're looking for a quality helmet that will provide you with plenty of protection, the Shoei J-Cruise Helmet is a great option. In this article, we'll take a close look at the features of this helmet and answer some common questions about it. We'll also provide some tips on how to choose the right size and fit for you.
Firstly, let's talk a little bit about Shoei company. So, Shoei is a Japanese company which was founded in 1959. And it's no surprise that they're one of the largest motorcycle helmet manufacturers in the world. In fact, they are the second largest after Arai. Shoei has always been at the forefront of helmet technology and safety. They were the first company to introduce a full-face helmet to the market back in 1974 and have been innovating ever since. [1]
So if you're considering buying a Shoei J-Cruise Helmet, read on for all the information you need!
Shoei J-Cruise Helmet
Looking for a great motorcycle helmet? Check out the Shoei J-Cruise Helmet! This helmet is a high-end, heavy duty helmet that is perfect for riders who want the best protection possible.
Moreover, Shoei J-Cruise Helmet offers
great visibility and ventilation
, so you'll never have to worry about being too hot or unable to see while you're riding. The micrometric fastener is also a great feature, allowing you to quickly and easily adjust the fit of your helmet.
Plus, the built-in bluetooth makes it easy to stay connected while on the go. The Shoei J-Cruise Helmet is available in sizes XS-XXL, so there's sure to be a perfect fit for everyone.
Shoei J-Cruise Helmet Size Chart
---
Pros & Cons of Shoei J-Cruise Helmet
---
Buyer's Guide
Shoei J-Cruise II review: expensive but quality open face helmet
When it comes to choosing a motorcycle helmet, there are many different factors to consider. But one of the most important choices you'll make is whether to go for an open face or full face helmet. If you're leaning towards an open face option, then the Shoei J-Cruise II could be the perfect choice for you.
This Japanese brand has been making quality motorcycle helmets since 1959 and the J-Cruise II is their latest offering in the open face category. Although it's one of the more expensive options on the market, it's packed with features that make it worth the investment.
One of the stand-out features of this helmet is its built-in sun visor. This can be easily activated with a lever on the left side of the helmet, and it's a great way to protect your eyes from the glare of the sun.
The J-Cruise II also has an integrated Bluetooth system, so you can easily stay connected while on the road. And if you're worried about safety, then you'll be pleased to know that this helmet comes with Shoei's Multi-Layer EPS liner, which is designed to absorb impact in the event of a crash.
So if you're looking for a quality open face helmet, then the Shoei J-Cruise II should definitely be on your radar.
Overall/Summary
The Shoei J-Cruise is an excellent helmet for those looking for a full-face option that doesn't skimp on features. It's very comfortable and has a plethora of safety features.
The only downside is the price tag, but considering the quality of the helmet, it's definitely worth the investment.
Despite this, it still has one of the greatest ratings we've given a helmet without a chin bar thanks to its AIM shell, which typically does well in SHARP safety testing, and a respectable grade for noise attenuation (for an open face helmet at any rate). which is significant.
Because the Shoei J-Cruise II is an excellent helmet if money is no object and you want an open face helmet. It is expertly built. It employs tried-and-true shell technology from Shoei. And the double visor system is great, albeit at this price it ought to include a Pinlock anti-fog.
If you're in the market for a new motorcycle helmet, the Shoei J-Cruise should definitely be at the top of your list.
Safety
One of the most important features of any motorcycle helmet is safety. The Shoei J-Cruise boasts a number of safety features that make it a good choice for riders.
The helmet has an advanced polycarbonate shell that helps to protect your head from impact in the event of a crash. It also has a multi-density EPS liner that absorbs energy and cushions your head in a fall.
In addition, the J-Cruise has a special emergency release system that allows emergency medical personnel to remove the helmet without causing further injury to your neck or spine.
The Shoei J-Cruise meets or exceeds DOT and Snell M2015 standards, so you can be confident that it will provide adequate protection in the event of an accident.
Shoei's AIM shell incorporates the same helmet technology as some of their full face helmets, in addition to having sides that drop nicely to provide protection for your chin area.
Their AIM shells are more technologically advanced than this shell design. But it is a reliable material for helmet shells, as shown by the good results other AIM helmets have in SHARP testing.
Additionally, there is a shock-absorbing liner there. And in the case of the J-Cruise II, it has a multi-density liner, as is the case with the majority of their current range. So, that ought to be sufficient.
The retention system is the usual D-ring arrangement, which is easy to use and adjust. And there are also double D-rings available as an optional extra if you prefer them.
It means that you don't have to put up with an ill-fitting helmet, as can be the case with some manufacturers who only produce three shell sizes.
This should give you a good fit, and that's important for safety and comfort. [1]
Helmet Noise
One of the most common questions I get asked is about helmet noise and if the Shoei J-Cruise is a noisy helmet. To be honest, all helmets will create some level of wind noise but it's really dependent on your motorcycle, earplugs (if you use them), and how fast you're going.
Shoei has undoubtedly put a lot of effort into the aerodynamics of the J-Cruise II, wind tunnel shaping it to reduce drag and hence noise. But as with any helmet, there will always be some noise. They have also pushed some ear pads and tightened the visor's fit to help with the noise.
Ventilation
Shoei J-Cruise Helmet Review comes with a great ventilation system. The helmet has two front vents and two rear exhaust vents. The front vents are adjustable so you can control the amount of airflow that you want. The rear exhaust vents help to remove the hot air from inside the helmet.
The visor is also fog-resistant which is a great feature if you ride in colder climates. Overall, the ventilation on this helmet is excellent and will keep you cool and comfortable even on long rides.
Add to that the fact that the original J-Cruise helmet had excellent airflow.
However, Shoei hasn't sat back and taken it easy. The helmet shell has been redesigned to be more compact and have superior aerodynamic capabilities, and three large vents have been added to the top to provide plenty of airflow.
What's not quite so fantastic, it seems, is that the equivalent back air vent is actually just a few tiny holes, which appears to be somewhat reducing the air flow overall, according to one owner.
However, the majority of J-Cruise II owners concur that the head venting is excellent and provides plenty of airflow over your head when needed.
Additionally, those three vents may be adjusted in three different directions, including fully open and closed, and are all controlled by large sliders that are easy to use with gloves.
Visor
The J-Cruise comes with a Pinlock-prepared CWR-F face shield which is optically correct, scratch and UV resistant. The visor has tear-off posts installed and the helmet ships with a clear Pinlock lens insert. The faceshield can be removed without tools for cleaning or replacement and uses Shoei's QRSA (Quick Release Self-Adjusting) base plate system.
The J-Cruise also features an internal sun visor that's activated by a slider on the left side of the helmet. The sunvisor is large enough to provide good coverage and is tinted to help reduce glare.
Even when the visor is down, the J-Cruise 2's enormous main visor provides an excellent view of the road ahead, your clocks, and pretty much everything else around you.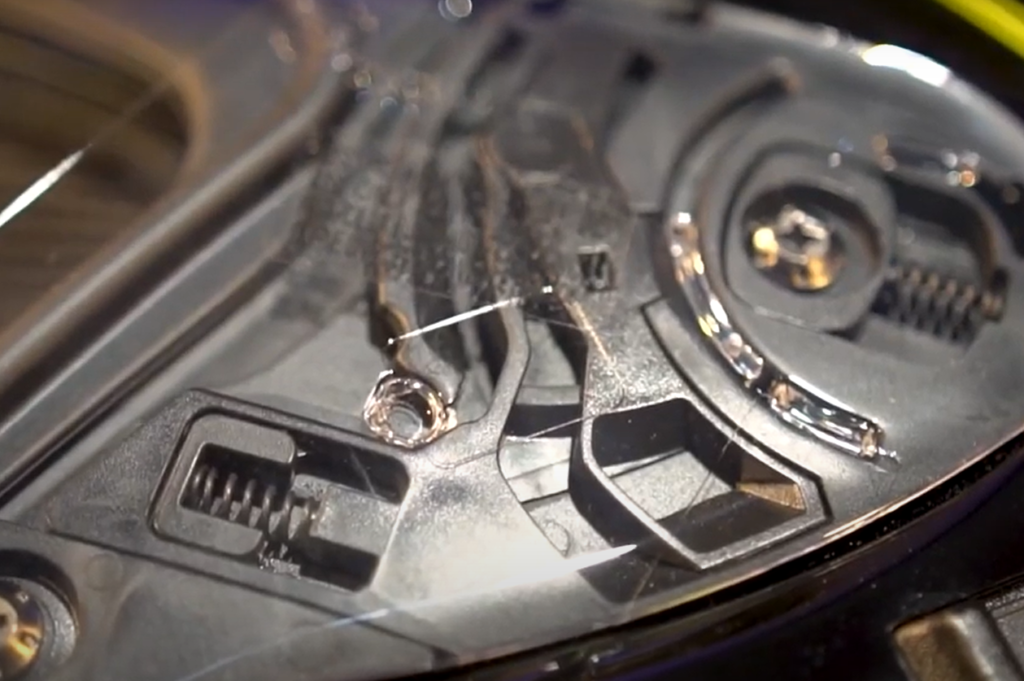 Additionally, the visor is optically correct, which is advantageous given how big it is. Furthermore, it is quick-change, making it easy to remove by just opening the visor, pushing a lever on either side, and pulling it free.
It may be argued that adding a Pinlock Evo to the J-Cruise II is a tacit admission of some fogging issues. The addition of a cracked-open city riding position for the visor, which is typically there to let in more air and aid in defogging, is also a good example of this.
However, any piece of cold polycarbonate placed in front of your face on a chilly or humid day is certain to fog up, so it's reassuring to know Shoei has taken action to resolve the issue.
It's also helpful to know that Shoei claims its polycarbonate visor blocks 99% of UV radiation. Even while polycarbonate is known for blocking at least 95% of light in any case, it's always a good idea to see an exact number, especially if you're riding somewhere sunny.
Sun visor
The sun visor also boasts the same percentage of UV protection, 99%.
The sun visor on the Shoei J-Cruise is a great addition. It's easy to operate with one hand, and it provides good coverage from the sun. The visor is also anti-fog coated, so you won't have to worry about your vision getting obscured in humid or cold weather.
Overall, though, the sun visor is a helpful feature that's worth having.
Comfort and Sizing
The J-Cruise 2 is available in sizes XS-XXL and comes in four shell sizes.
It utilizes 3D Max-Dry liners from Shoei. Max-Dry is a material that wicks away moisture and is said to dry three times faster than regular nylon. The cheek pads are also removable and washable, which is always a nice feature.
As for sizing, the J-Cruise runs slightly small.  So, if you're between sizes, it's best to go up rather than down.  All in all, the Shoei J-Cruise is an excellent helmet for those looking for quality, comfort, and protection.
Like other premium helmet manufacturers, you can purchase cheek pads in a variety of thicknesses to assist customize the fit if you discover that it's not quite right or that it loosens with time.
Additionally, if you wear spectacles, there is a groove for your glasses so the arms won't dig into your head.
Owners believe the J-Cruise II is a highly comfortable helmet overall. We actually didn't come across a single owner who claimed otherwise.
Naturally, proper sizing is essential from the start, and if you find yourself in-between sizes for the J-Cruise II, it is recommended that you choose the larger size because the smaller size would be too tight.
The comfort liner's quality and overall feel are perfect.
Looks & Graphics
The Shoei J-Cruise Helmet has a very sleek and aerodynamic design. The matte black finish with red accents looks great, and the helmet's overall aesthetic is very modern and stylish.
As far as graphics go, the J-Cruise features a few different designs that are all quite subtle and understated. This is definitely not a flashy or attention-seeking helmet by any means.
Instead, the focus with the J-Cruise seems to be on functionality and practicality – which we think is a good thing.
Other stuff – bluetooth, weight, glasses, aero & buffeting, build quality, warranty
If you want to attach a bluetooth headset to your J-Cruise II, the SCL 1 or 2 set that Sena and Shoei created to operate with their helmets can be used. This indicates that the battery pack slips into a panel at the bottom rear and that there is a place to stick the controller on the left side (a little panel on the bottom edge must be removed). Additionally, there is enough room for speakers and a boom microphone.
The J-Cruise II is not the lightest full face helmet on the market, but it does not feel excessively heavy when you put it on. This size medium tips our scales at 1724 grams (just over three and a half pounds). The original J-Cruise was about 20 grams lighter.
Vision is superb with or without glasses thanks to the large eyeport opening.
Shoei's CW-XV lens provides 100% UVA and UVB protection while being optically correct with no distortion. As far as we can tell, this clear shield is also scratch resistant.
The J-Cruise II is very quiet at speed with no buffeting or turbulence that we could detect. This calm feeling might have something to do with the helmet's aero efficiency. Shoei claims a CX-IV shell shape that was wind tunnel tested and improved upon for this model. Additionally, the bottom of the helmet has an integrated spoiler and an adjustable chin vent closes off completely to further reduce noise and help with stability at high speeds.
Build quality and attention to detail are what you would expect from a company like Shoei. All of the materials feel premium, everything operates smoothly, and all of the graphics are applied perfectly. The padding is comfortable and thick without being excessively so.
Good Alternatives to the Shoei J-Cruise II?
If you're looking for a good alternative to the Shoei J-Cruise II, there are a few options out there.
One is the HJC RPHA-MAX Evo, which is a very similar helmet in terms of features and design.
Another option is the Bell Qualifier DLX MIPS, which is a bit cheaper but still has many of the same features as the J-Cruise II.
Finally, the Arai Signet-X is another great option that's a bit more expensive but has some additional features like a better ventilation system.
So, there are a few different options to choose from if you're looking for an alternative to the Shoei J-Cruise II. Just pick the one that best suits your needs and budget!
11 Things to look out for when buying a crash helmet
When you're looking to buy a new crash helmet, there are ten key things you need to bear in mind. Here's our quick guide to what you should be thinking about before you make your purchase.
Crash helmets are an essential piece of kit for any motorcycle rider, offering vital protection in the event of an accident. With so many different styles and types on the market, it can be tricky to know which one is right for you. Here are ten things you need to look out for when buying a new crash helmet:
Safety ratings
Make sure the helmet you're considering has good safety ratings from independent organizations like SNELL or DOT.
Size and fit
It's important that the helmet fits properly so that it can offer maximum protection in the event of an accident. Try on different helmets and sizes until you find one that feels comfortable and secure.
Noise level
Some helmets are quieter than others, which can be important if you'll be doing a lot of highway riding. Consider how much wind noise you're willing to put up with before making your purchase.
Visor options
Make sure the helmet comes with a visor that meets your needs. If you wear glasses, for example, you'll want to make sure the visor is compatible with them.
Retailer
Not all retailers are created equal. Do some research to find a reputable retailer who can offer you good customer service and a fair price.Keep these factors in mind and you're sure to find the perfect helmet for your needs.
Ventilation
If you'll be riding in hot weather, make sure the helmet you choose has good ventilation to keep you cool and comfortable.
Weight
A heavier helmet will provide more protection than a lighter one, but it may also be more difficult to wear for long periods of time. Consider how often you'll be using the helmet and how much weight you're willing to tolerate.[2]
Communicators
If you want to be able to use a hands-free phone system or listen to music while you ride, make sure the helmet you choose has the appropriate communicators built in.
Warranty
Most helmets come with a limited warranty, so be sure to read the fine print before making your purchase.By keeping these factors in mind, you can be sure to find the perfect helmet for your needs.
Fitting
A good fitting helmet is key to comfort and safety so be sure to try on a few different models before making your purchase.
Price
Don't necessarily choose the cheapest helmet you can find, but don't overspend on features you won't use either. Find a balance that works for you.
---
FAQ
Open face or full face helmet?
There is no one definitive answer to this question. The best answer for you depends on your individual needs and preferences. Consider the following factors when making your decision:
The type of motorcycle you ride:
If you primarily ride a cruiser or touring bike, an open face helmet may be a good option. If you ride a sportbike or other high-performance motorcycle, a full face helmet is probably a better choice.
If you do a lot of slow, leisurely riding, an open face helmet may be more comfortable. If you frequently ride at high speeds or in challenging conditions, a full face helmet will offer more protection.
Full face helmets tend to be more expensive than open face helmets. If cost is a major consideration, you may want to opt for an open face helmet.
Ultimately, the decision of whether to choose an open face or full face helmet is up to you. Consider your individual needs and riding habits to make the best choice for you.
Open-face helmets are much lighter and therefore less fatiguing than heavy full-face helmets.
You can frequently refuel at service stations, sometimes even at ones where you typically have to take off your helmet since your face is exposed. However, the main benefit is that you have greater vision and a wider field of view.
Which SHOEI helmet is the best?
There's no definitive answer to this question since it ultimately depends on personal preferences. However, many riders consider the Shoei J-Cruise Helmet to be one of the best options on the market. Here's a closer look at what makes this helmet so popular among motorcyclists.
The Shoei J-Cruise Helmet is designed with safety in mind. It features a durable shell that can withstand impact and protect your head in the event of an accident. The helmet also has a comfortable interior lining that helps to cushion your head and keep you safe while riding.
In addition to safety, another important consideration when choosing a motorcycle helmet is comfort. The Shoei J-Cruise Helmet is designed to be comfortable to wear, even for long periods of time. The helmet has vents that help to keep your head cool, and the interior padding is soft and comfortable against your skin.
If you're looking for a motorcycle helmet that offers both safety and comfort, the Shoei J-Cruise Helmet is a great option to consider. It's one of the most popular helmets on the market and is sure to provide you with everything you need while riding.
Are Shoei helmets made in Japan?
Shoei is a Japanese company that has been making helmets since 1959. All of their helmets are made in Japan, and they have a reputation for being some of the highest quality motorcycle helmets on the market.
Why are Shoei helmets the best?
Shoei is a Japanese company that has been making helmets for over 50 years. In that time, they have developed a reputation for making some of the safest and most comfortable helmets on the market.
Shoei helmets are made with a focus on safety and comfort. They use high-quality materials and construction techniques to ensure that their helmets can protect riders in the event of a crash.
Shoei also puts a lot of research into the design of their helmets. They have a team of engineers that work to create helmets that are both safe and comfortable to wear.
The result is a helmet that is trusted by riders all over the world. Shoei has won numerous awards for the safety and comfort of their helmets, and they are used by some of the top motorcycle racers in the world.
What replaced the SHOEI Ryd?
The SHOEI Ryd was replaced by the J-Cruise in 2015. The J-Cruise is a full face motorcycle helmet that is specifically designed for touring and long distance riding. It is one of the most popular helmets in the Shoei range and has been awarded five stars by the Sharp safety rating system.
The J-Cruise is a very comfortable helmet to wear with its soft, padded lining and wide visor. It is also extremely quiet due to the aerodynamic design and lack of exposed seams. The only downside to this helmet is that it does not have a built-in sun visor which can be a problem when riding in bright sunlight. However, there are aftermarket sun visors that can be purchased separately and fitted to the helmet.
What is a jet helmet?
A jet helmet is a type of motorcycle helmet that was popularized in the 1950s. Jet helmets are characterized by their sleek, aerodynamic design and their visorless look. Jet helmets offer less wind resistance than traditional motorcycle helmets, which makes them ideal for racing or high-speed riding. However, jet helmets offer less protection to the face and head in the event of a crash.[3]
Today, jet helmets are not as popular as they once were. However, they remain popular among some riders who appreciate their sleek design and low wind resistance.
How to care about your helmet?
Caring for your helmet is important to prolonging its lifespan and keeping it in good condition. Here are some tips on how to care for your motorcycle helmet:
Store your helmet in a cool, dry place when not in use;
Clean your helmet regularly with a mild soap and water solution;
Avoid using harsh chemicals or solvents on your helmet;
Inspect your helmet regularly for any signs of wear or damage;
Replace your helmet if it is involved in a crash or sustains significant damage.
Related Video: Shoei J Cruise Helmet Review
Conclusion
The Shoei J-Cruise Helmet is a great option for motorcycle riders who are looking for a helmet that will provide them with both protection and comfort. The helmet's ventilation system helps to keep the rider cool, while the built-in sun shield protects their eyes from the sun.
Additionally, the J-Cruise Helmet is designed to fit comfortably on the wearer's head, making it a great choice for long rides. If you are in need of a new motorcycle helmet, be sure to consider the Shoei J-Cruise Helmet as one of your options.
---
References:
https://en.wikipedia.org/wiki/Shoei
https://shoei-helmets.com/j-cruise-2-helmet-technology/
https://www.infinitymotorcycles.com/news-and-events/motorcycle-helmet-buying-guide