Whether you're an avid motorcyclist or just getting started on your two-wheeled journey, one of the most important accessories you can have is a motorcycle helmet. Not only does it provide crucial protection for head and neck injuries in case of an accident, but it also serves as a way to personalize any ride with style and comfort. However, when it comes to keeping that helmet safe – especially from the elements – storage becomes key.
Understanding how to properly store your bike's 'crowning glory' requires knowledge about temperature levels, airtightness, cost-effective methods without compromising quality and other factors which we will examine in this blog post! Read on to learn more about storing your motorcycle helmet while preserving its condition and ensuring safety for years to come.
Which Types Of Motorcycle Helmets Are Available?
There are a variety of motorcycle helmet types available on the market today. The most common types cover full-face, modular (flip-up), off-road/ motocross, open-face (3/4), half helmets, and novelty helmets. Of course, each style has its exclusive benefits and drawbacks. You should definitely keep them in mind in order to discover the perfect helmet and keep yourself safe for years to come.
Safety should be a priority when it comes to motorcycle riding, so never skimp on quality or protection!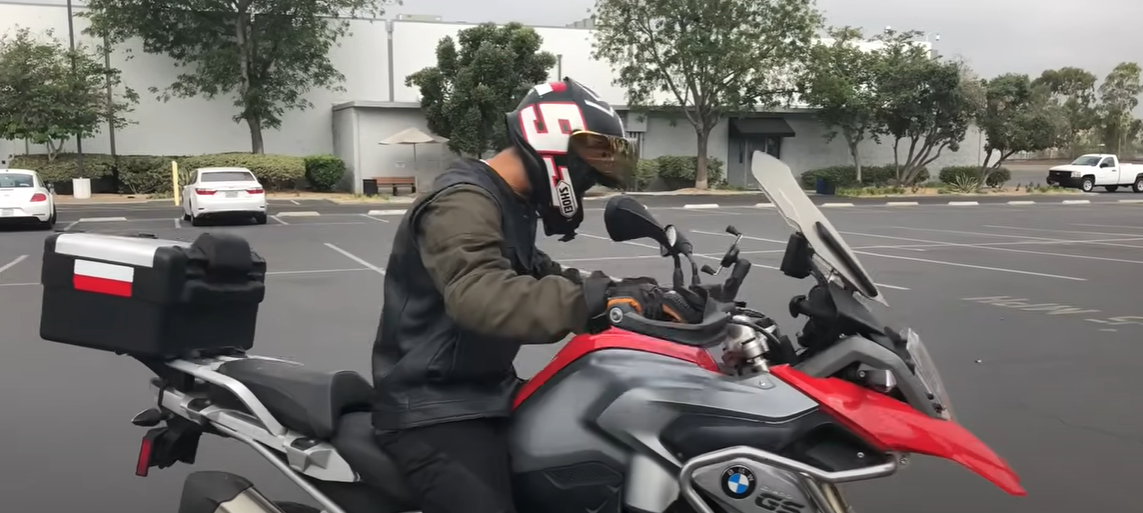 What Are Motorcycle Helmets And How To Care For Them?
Motorcycle helmets are a critical piece of safety gear for motorcycle riders. They offer important protection against potential head injuries in the event of an accident or crash. Motorcycle helmets come in all shapes and sizes, from full-face to open face models, as well as various styles and materials. It's important for riders to choose a helmet that fits correctly and meets safety standards, such as those set by the Department of Transportation (DOT). [2]
It is essential to take into account details such as size, shape, weight, ventilation system and type of closure (buckle or D-ring). The right fit should be snug but not too tight. There should be no gaps between the helmet lining and the rider's head. It should also be comfortable enough to wear for long periods of time without causing any discomfort.
Once a suitable helmet has been purchased, it is important to care for it properly in order to ensure its protection over time. Motorcycle helmets should be regularly cleaned with mild soap and water or leather cleaner, depending on the type of material they are made from. Be sure to avoid harsh chemicals when cleaning helmets as these can cause damage to the finish and materials. Additionally, after every ride, make sure to inspect your motorcycle helmet for any signs of wear or damage that could potentially affect its performance during use. [3]
What Difference Does It Make Where I Store My Helmet?
When it comes to storing your helmet, the most important thing is that you do so safely and securely. Many bike riders make the mistake of leaving their helmets in vulnerable spots, such as on top of a car seat or on the ground near their bikes. This leaves them susceptible to theft and damage from weather conditions. It's highly recommended you invest in a secure helmet storage option, such as a hard-shelled carrying case or wall-mountable rack. 
Proper helmet storage is also key for protecting your headgear from dents and scratches that can reduce its overall effectiveness in a crash. Be sure to store your helmet away from direct sunlight or other sources of extreme heat, as these conditions can cause your helmet's material to become brittle over time and make it more vulnerable to damage in the event of an accident. Additionally, storing your helmet upside-down on a flat surface will help prevent dents caused by objects being placed on top of it. [4]
By taking the time to invest in proper storage options for your helmet, you can ensure that it remains safe and functional for all of your biking adventures.
What To Consider When Storing Your Motorcycle Helmet?
Keep in mind the following rools:
Temperature and Humidity: This can affect the integrity of the material, so make sure it's in a climate-controlled environment.
Biocides: If there are any biocides present in the storage area, they could potentially degrade the materials used to construct the helmet. This is especially essential if you plan on storing your helmet for an extended period of time.
Pests: Ensure that any pests or insects do not have access to your motorcycle helmet while it is stored away; they could damage or even destroy it!
Light: Keeping your motorcycle helmet away from direct sunlight or other forms of light can help preserve its lifespan. Sunlight may fade the color of your helmet and degrade any plastic components.
Cleanliness: Before storing your motorcycle helmet, make sure it's clean and free from dirt or grease. These substances could potentially seep into the material and cause damage over time. [5]
By following these steps when storing your motorcycle helmet, you can help ensure that it will last for years to come. Don't forget to check on it regularly to make sure everything is in order!
Motorcycle Helmet Storage Places
Choose a dry, well-ventilated place to store your helmet. Store your helmet in a plastic bag or box to help protect it from dust and moisture. This will also make it easier to carry the helmet around when you need it. Place an absorbent material such as newspaper in the bottom of the storage box or bag to further protect the helmet from moisture damage. Other ways include storage rack or helmet hooks, bay/storage shelf, storage cabinet, locker, portable helmet storage box, small mannequin head, store on your bike (not your handlebars). And now let's discuss the features and advantages of each method.
Always remember to wear your helmet whenever you're out riding – this is The Golden Rule of Motorcycle Safety!! Always be conscious of safety measures and ensure that you store your motorcycle helmet properly so it remains safe and effective each time you take it out for a ride.
How Not to Store Your Motorcycle Helmet?
Your motorcycle helmet is an important piece of safety equipment, and it needs to be properly stored in order to avoid damage and keep your head safe. Here are some tips on how NOT to store your helmet:
How to Select the Proper Helmet for Your Head?
It is important to ensure you select the proper helmet for your head. Here are some tips on how to choose the right helmet for your needs:
How to Keep Your Helmet Longer?
To keep your helmet in top condition and protect it from wear and tear, you should follow a few simple maintenance tips.
Which Motorcycle Helmet Colors Last Longer?
Motorcycle helmet colors can fade over time due to exposure to sunlight and other elements, like dirt and road grime. Generally speaking, lighter colors tend to last longer than darker ones. White is often the most durable option due to its reflective nature. The pigment doesn't absorb as much of the sun's rays and tends to hold up better against fading. Solid black helmets can also be quite durable if they're treated properly. However, it's important to note that a matte finish on these helmets will likely fade over time more quickly than a glossy one.
When it comes to patterned or multi-colored helmets, metallic finishes tend to have an advantage. These vibrant hues create a chrome-like effect that reflects light and helps to protect the helmet's colors better than standard paint finishes. Additionally, metallic helmets have a tendency to be more resistant to scratches and scuffs, which can help them maintain their vibrant shades for longer. [11]
In order to keep your motorcycle helmet looking fresh and new, it's important to take proper care of it. This means regularly cleaning it with mild soap and water; avoiding abrasive cleaners or sponges; polishing off any dirt, grime or residue build-up; and storing the helmet in a cool, dry place when not in use. By doing these simple maintenance steps, you can ensure your favorite color stays bright for many rides to come!
How Often a Motorcycle Helmet Should Be Changed and What Does It Depend On?
The frequency of replacing your motorcycle helmet depends on a few factors. Firstly, the condition of the helmet itself is important to consider. If it's been in an accident, even if there are no visible signs of damage, it should be changed as soon as possible. Moreover, if the helmet has become misshapen or cracked over time due to age and wear and tear, you should also replace it immediately. Even if you can still use it safely, its effectiveness may have been affected by these issues.
Finally, keep in mind that helmets aren't designed to last forever – no matter how well taken care of they are. It's important to inspect your helmet regularly for signs of wear and tear and replace it once its effectiveness has been compromised. [12]
FAQs
How do you store helmets at home?
Helmets should be secured in a closet or other enclosed area to prevent them from being damaged or stolen. If you have limited space, helmets can be hung on a hook or wall rack. It is important to make sure that the helmet cannot move around while hanging as this can cause damage to the straps and padding of the helmet. For long-term storage, it is best to store helmets in a cool, dry place away from extreme temperatures and humidity.
How long can you store a motorcycle helmet?
It's recommended that motorcycle helmets be replaced every three to five years, depending on how often you use them and the environment in which they are stored. However, if your helmet has been exposed to physical damage, such as a crash or hard fall, it should be replaced immediately. Additionally, you may need to replace your helmet sooner if there is evidence of wear and tear on the inside or outside of the helmet including its padding and straps.
Do helmets expire if not used?
No, helmets do not expire if they are not used. However, it is recommended that helmets be replaced after five years of use, regardless of whether or not the helmet appears to have been involved in an impact. This is due to degradation of helmet materials and overall wear-and-tear that can cause the helmet to become ineffective over time.
How do you store a motorcycle helmet when parked?
A good way to store your helmet is by investing in a motorcycle lock box or chain that can be attached to the bike's frame. This will keep the helmet secure and protected from theft or damage while also freeing up space in your saddlebags or storage compartment for other items. You can also opt for a wall-mounted hook or bracket specifically designed to hold helmets securely in place, which can be great if you have limited storage options at home.
Useful Video: How to Carry Passenger Helmet on a Motorcycle!
Conclusion
With all of the above considerations in mind, it is crucial that you protect your motorcycle helmet and purchase only quality items. Make sure to wear your helmet whenever hitting the road – no matter the distance or route – and remember to keep it clean and sanitary for the best fit, comfort, and protection. When in doubt about any decision related to your helmet such as size and style, don't be afraid to reach out for advice from knowledgeable riders or professionals. A little research can go a long way when it comes to choosing the right option for you. So don't wait until it's too late – stay safe out there on two wheels and help keep yourself and your gear in friendly shape for all your rides!
References:
https://www.bikebiz.com.au/blog/articles/6-types-of-motorcycle-helmets
https://motoress.com/motorcycle-gear/ten-motorcycle-helmet-care-tips/
https://helmethacks.com/how-do-you-take-care-of-a-motorcycle-helmet/
https://helmethow.com/how-to-store-motorcycle-helmet/
https://motohelmetbeginner.com/how-to-store-a-motorcycle-helmet/
https://scootersfornewbies.com/ways-to-store-a-motorcycle-helmet/
https://www.cardosystems.com/blog/motorcycle-helmet-storage/
https://indianmotorush.com/how-to-choose-helmet-size/
https://timeless2wheels.com/682077/do-motorcycle-helmets-expire/
https://motohelmetbeginner.com/increase-motorcycle-shelf-life/
https://www.focus2move.com/what-the-color-of-your-motorcycle-helmet-says-about-you/
https://www.motolegends.com/reviews/When-should-I-replace-my-motorcycle-helmet